I bought two types: the 65 and the 70 percent beads from BargainHumidor.com
So I didn't feel like takin the drill out to make holders from Tupperware, film containers, soap dishes, etc. I wanted to be able to have a holder that is flexible to fit in many locations.
I don't have the $ for the bags and round stick holders that look pretty cool...
Hmmmm...
That's right. Woman's stockings would be a good container...
How to NOT MIX UP the 65 and 70 percent beads. Color coded holders..
YEP!!
I had a pair of white and another of blue stockings that could be sacrificed for the cause. AHHH those were the days....
I think, without have ANY experience with beads, that this flexible sack will be pretty useful. I set up Blue for 70% and white for 65%. I weighed them, dry, in sacks of 6 ounce, 4 and 2 ounce.
I have more sacks to make. I'm pretty bushed now..
Here's how I went about it.
Got the stockings that I need for the sacks.
A set up to weigh and scoop. The knife is needed to cut the bags of beads and the stocking to size
Weighing on a postage scale. It factors in the tare weight of the big container to weigh the beads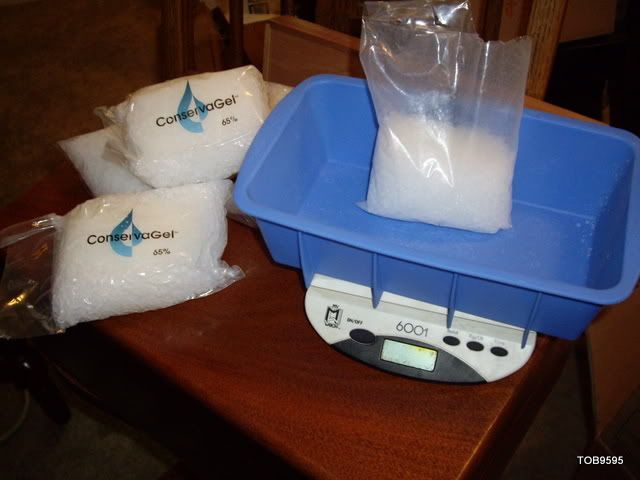 All set up to receive moisture.
Blue = 70%
White = 65%
Sitting in some airtight containers with tap water next to them. I hope I have enough surface area exposed to allow the beads to suck up the moisture.
If it doesn't take up the appropriate amount of water in 2 days I'll take em out and spray them with distilled water.
I have to figure out how to use my old humidisticks, and other containers that held pg mixture..
Stick size for travel will be something I have to think or read about at CS...
Hmmmm. metal cigar tubes...Drilling involved..I want to avoid drilling because of the, inevitable, jagged edges from bit penetration on the inside of the container. I figure these jagged edges will lead to increased breakage of the beads.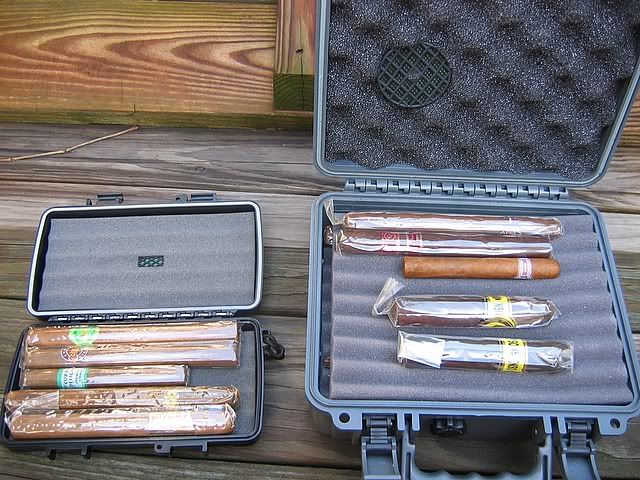 What are some of your unique ways of holding beads???
Tom